Hello dear readers!
Today I'm going to talk about something quite seasonal. No, it's not going to be about festive food, nor about mulled wine (although I love it), it's going to be about the colds that a lot of us are having to deal with at the moment. Yikes!
I too, had a pretty bad cold to get rid of lately, and I wasn't too happy about that. As a person who eats quite healthily, exercises and does plenty more things to contribute to a healthy, strong body, I was very proud when it came to my immune system, as it had been about 3 years since I last caught a cold. Not bad, right?
Well, the truth is, anyone can possibly catch a cold in this transitional season, young, old, healthy or not so healthy, and so did I. It all starts with a little rough throat, not being able to focus, being a little too tired too quickly and boom, off goes your immune system!
So what do we have to do? Well, simply put, we must make ourselves stronger, and give a little boost to our immune system.
Now bear with me here. This doesn't have to mean running off to the pharmacy and piling up on all sorts of cough medicine or getting flu shots. Don't do that. Really, those chemically processed concoctions made in a laboratory are not what your body needs right now. Those will probably help relieving the symptoms but not the causes themselves. Due to this "camouflaging" action, they might even confuse your body even more and actually weaken it further on deeper levels.
We are the masters of our own bodies, and so we have to understand how they work in order to treat them as they should be treated. Let's get to the root of the problem. When you catch a cold, it means your immune system is down and that your body is dealing with inflammation.
Inflammation is your body's natural response to threatening bacteria and viruses. Your body starts producing a ton of white blood cells and substances. That's when you start getting symptoms such as fever, chills, fatigue, and runny noses. Yikes!
Thankfully, there are so many of nature's healing ingredients that can help you strengthen your body in such situations, whether you're looking to prevent or treat a cold or other illnesses, all you need to do is look for anti-inflammatory, immune boosting foods and include them into your diet. Or create a wonderful healing syrup that you can use as a treatment, like I did.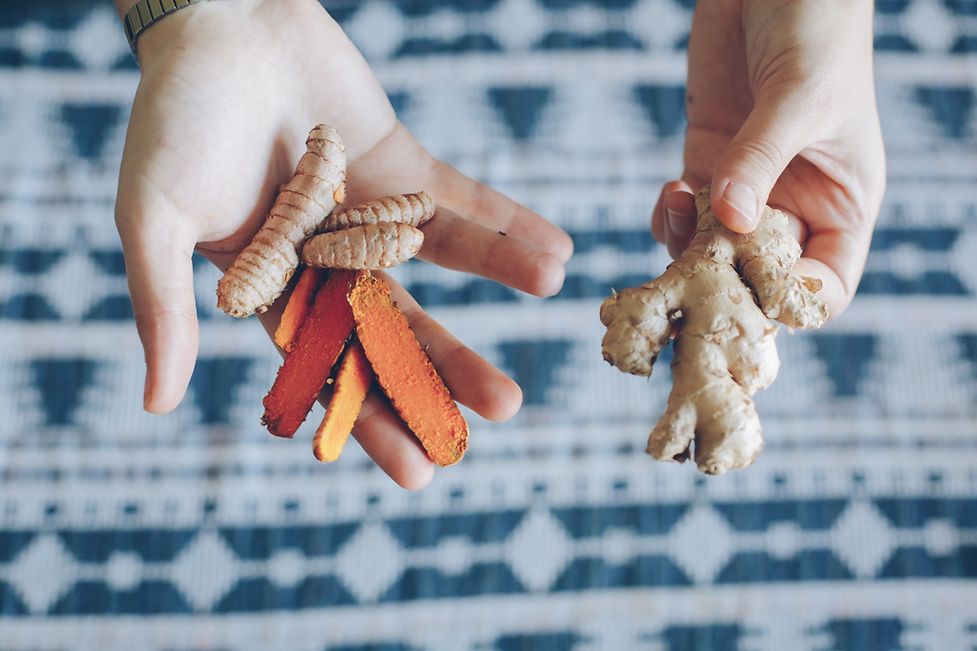 In the following syrup, I am using a combination of my favorite, most potent natural ingredients.
– HONEY: A soothing superfood which helps coat the throat (lowering soreness) and a natural antibiotic, perfect for fighting off germs.
– GINGER: A wonderful root which has antibiotic effects. It's anti-inflammatory and it aids in fighting off infections, beautifully detoxing the body.
– TURMERIC: This orange-coloured root is a very strong antioxidant and it supports digestion, treats fever and all sorts of infections. The active ingredient in it, curcumin has been proved to have anti-inflammatory effects. Black pepper, helps to enhance the bioavailability of curcumin by a thousand times, so it's a good idea to use them together!
– LEMON: The humble lemon has always been a great remedy for common colds. It's anti-viral and helps strengthen the body when it has immune deficiencies.
– COCONUT OIL: Anti-bacterial, anti-viral, anti-fungal miracle oil. My absolute favorite. And it tastes delicious, too.
– APPLE CIDER VINEGAR: Vinegar has been used to disinfect the house, but of course, it can also disinfect the body! It is powerful in getting rid of harmul pathogens, bacteria and viruses.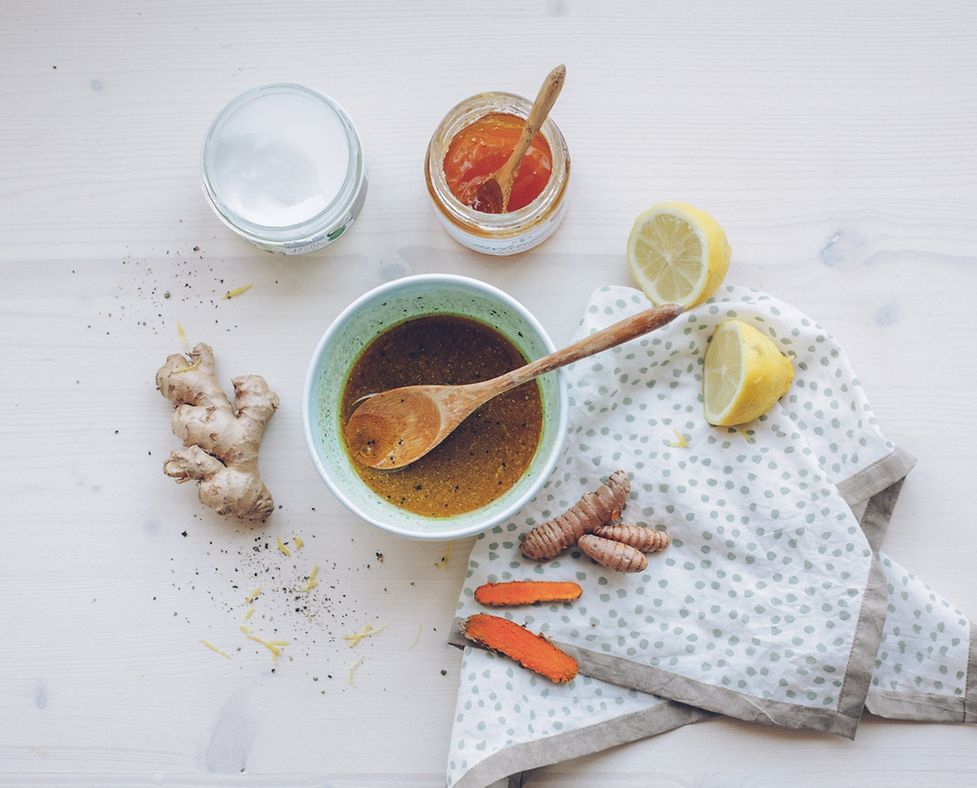 The recipe
1/2 cup / 120 ml honey (go for the raw, organic kind. I get mine from conscious foods
2-4 tbsp ginger, ground or freshly grated
2 tsp turmeric, ground or freshly grated
1 organic lemon, freshly zested
2 pinches ground black pepper
2 tbsp virgin coconut oil
3-4 tbsp raw apple cider vinegar
It's quite simple. Just stir all the ingredients together. If your coconut oil is quite solid, you can slightly melt it before adding it in, so that the consistency of the syrup will be more smooth. Taste and add more ginger or turmeric if you like. You can then store the syrup in a small glass container. It will separate a bit as it sits, but just give it a stir whenever you want to have it.
You can have 2 tablespoons per day for prevention or 5-6 tablespoons of it per day for treatment!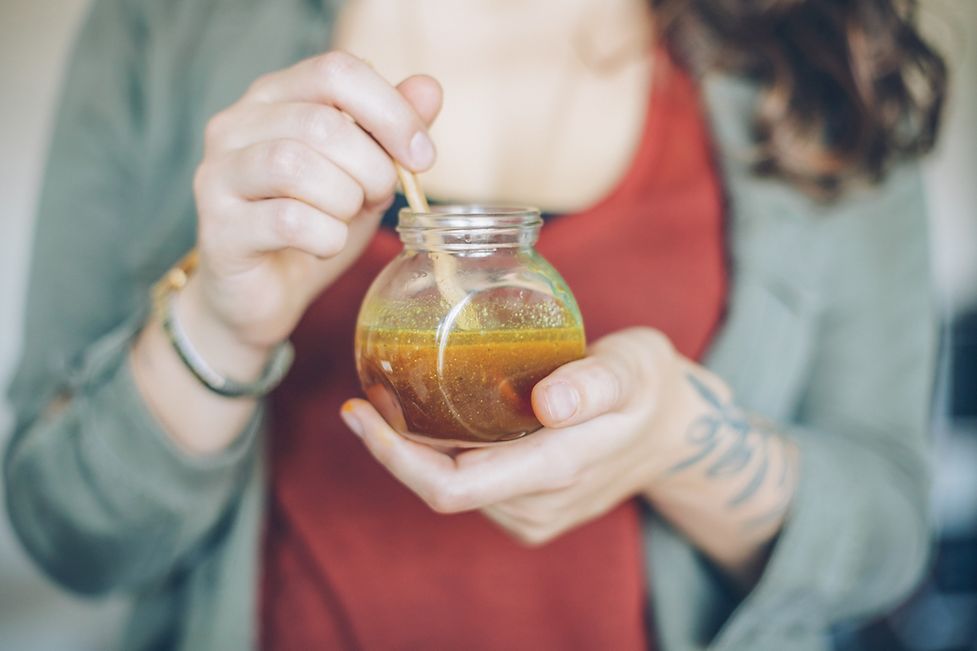 I have been sipping a bit of it to fight my last cold, and it really helped a lot. All symptoms were gone in less than two days. I still use it from time to time just to give my immune system a continual boost or when I start to feel a little weaker.
Don't have a cold? You can still use it for treating and preventing many other illnesses that show your immune system needs a little pick-me-up, such as bacterial infections (UTI, thrushes, candida), viruses or allergies.
Keep in mind that this syrup will not solve all of your problems on its own, you have to think of it as a supplement, so do consider a healthy, nutritious diet, drink lots of fluids (herbal teas, water), rest and de-stress while your body is trying to recover. Give it the love it needs and be kind to it.
TIP: If you're looking for a more child-friendly recipe, you shall definitely try this homemade elderberry syrup , which I have posted here on Orla as well. It is really yummy, and elderberry is high in vitamin C, perfect for strengthening the body.
Let me know how it turned out for you, I'm always happy to hear your feedback!
–
This article was originally posted on Orla's Wort Column. Check out our other articles here: Living differently in Luxembourg
Credits: Photos by David Mourato